Kerala, God's own country, is a favorite destination for a beach wedding, but a traditional Kerala wedding of the Syrian Christian church is something very different than what most people that come to Kerala had ever seen.
Varshini and Alex, or as everyone calls him; Mithun, had a Syrian Christian wedding in Coimbatore, not far from the Kerala border with Tamil Nadu, in south India. Varshini actually comes from a traditional Tamil Hindu family, while Alex is from a Syrian Christian family originally form Kerala. I was in Madurai, Tamil Nadu, to photograph the Hindu ceremonies form the bride's family side and was going to come back to Delhi right after without shooting the Christian wedding, but then I had a talk with Mithun's father. He had argued that since I am doing a book on Indian weddings I must come to Coimbatore for the Christian ceremony. A book on Indian weddings would not be complete without a Syrian Christian wedding, he said, and so I accompanied the family to Coimbatore after the Hindu ceremonies in Madurai were over.
Who are the Syrian Christian people?
The Syrian Malabar Nasrani people, also known as Saint Thomas Christians are an ethno-religious group from Kerala, India, adhering to the various churches of the Saint Thomas Christian tradition. They are also known as Syrian-Malabar Christians, Mar Thoma Nasrani, or more popularly as Syrian Christians in view of the Syriac (classical form of Aramaic) liturgy used in church services since the early days of Christianity in India.
The Syrian Malabar Nasranis are the descendants of the natives and those of the Jewish diaspora in Kerala who became Christians in the Malabar coast in the earliest days of Christianity. They follow a unique Hebrew-Syriac Christian tradition which includes several Jewish elements although they have absorbed some Hindu customs. Their heritage is Syriac-Keralite and their language Malyalam. Much of their Jewish tradition has been forgotten, especially after the Portuguese invasion of Kerala in the early 1500s.
For the wedding ceremony, the bride wears an off-white silk sari with a wide border. Her sari 'pallu' acts as a veil or she wears a separate veil over her head. She has only very little jewelry on her body. The groom's outfit would traditionally consist of a white dhoti and a white shirt, but in these modern times not all the traditions are kept.
The sari which the groom presents to his bride in church is called the 'mantra kodi'. The night before the church ceremony, strands of thread are drawn from this sari by the groom's sister and twisted to form a cord. On this cord, is tied the 'taali', a leaf shaped gold pendant with a cross, inscribed on it. The 'mantra kodi' is placed on the bride's head by the priest and blessed.
In a Syrian Christian wedding it is the priest who puts the rings on the bride and groom's hands to symbolize the bond made before God, a bond that will not be broken.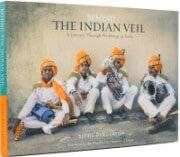 Behind The Indian Veil is the result of Sephi Bergerson's seven-year photographic journey through wedding in India. This lavishly produced hard-cover coffee table book brings the beauty of India's wedding traditions, its people and its amazing stories into stunning focus.
Sephi Bergerson is an international destination wedding photographer represented worldwide by SILK PHOTOS. He is based in India with extensive experience of covering weddings all over the subcontinent. He is available for wedding photography in Maldives, Mauritius, Seychelles, as well as weddings in Mombasa and elsewhere in Africa.