Singer Benny Dayal and model-actress Catherine Thangam's wedding in Bangalore was possibly the most down to earth celebrity wedding one can imagine. Not that I covered so many celebrity weddings, but we all have our preconceptions, and so did I. However, I must say I was pleasantly surprised to meet Benny and Cathy, and see how chilled out they both are about life, and about this hush-hush wedding, attended mostly by close friends and family.
As Benny is of Malyali origin, and Catherine is Syrian Christian, the wedding was a fusion of two traditions, a beautiful south Indian Hindu ceremony, and a Syrian Christian wedding. DJ Shireen took the dance floor by storm on the mehendi night, as well as the reception, and as the sky opened up, the party became a rain dance that no one will ever forget.
Benny Dayal is most known for his famous song Badtameez Dil (from the movie with Ranbir Kapoor & Deepika Padukone), and the wedding naturally brought together some of India's music industry's personalities. Among the Bollywood celebrities who attended the special day were comedian Danish Sait, actress/model Anisha Joshi, singers Vishal Dadlani and Neeti Mohan, Vishal Shekar, and composer/music producer A R Rahman.
Photo Agency: SILK PHOTOS
Photography: Sephi Bergerson (Silk)
2nd Photographer: Sunny Pariani (Silk)
Wedding Film: Doodle Studio (Silk)
Event Organiser / Planning & Decor: Divya Chauhan & Vithika Agarwal (DivyaVithika)
SILK PHOTOS is a boutique photo agency, based in India representing a select group of talented wedding photographers, both stills and motion, specialising in Indian weddings and destination wedding photography in India, and around the globe. SILK members can work alone or in a team to cover larger events that require more than one photographer.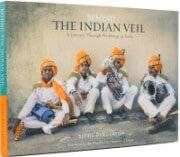 Behind The Indian Veil is the result of Sephi Bergerson's seven year photographic journey through wedding in India. This lavishly produced hard-cover coffee table book brings the beauty of India's wedding traditions, its people and its amazing stories into stunning focus.
Sephi Bergerson is an international destination wedding photographer represented worldwide by SILK PHOTOS. He is based in India with extensive experience of covering weddings all over the subcontinent. He is available for wedding photography in Maldives, Mauritius, Seychelles, as well as weddings in Mombasa and elsewhere in Africa.