Last June I had the pleasure of covering the wedding of Singer Benny Dayal and model-actress Catherine Thangam in Bangalore. Benny Dayal is most known for his famous song Badtameez Dil (from the movie with Ranbir Kapoor & Deepika Padukone), and could have had a 'star attitude' if he wanted to. I remember I was pleasantly surprised to meet him and Cathy, and see how chilled out they both are about life.
When the wedding was over, we knew we would all meet again sometime soon for a couple shoot. They are both running busy schedules, and setting up a date for something like this is not always easy.
We finally met in Goa for this photo shoot. Benny had only one afternoon to spare and the couple flew down for a quick in-and-out thing. I took them to the old Portuguese quarter of Panaji; the Fontainhas. I love this neighbourhood. It is small and colourful, and although quickly catching up with modern India, it still has some quaint little bars, and beautiful corners.
We took a walk in the afternoon, found an old car, met some locals, and called it a rap at Joseph's bar for Feni and Urak. After all, what is a visit to Goa without a taste of the local spice.
If you are ever down in Goa, or want to shoot with me anywhere else, do let me know. I'll be happy to meet you and do some magic together.
Thanks to Sunny Pariani for always keeping my back and making me look terrible at work. Trust him with a camera and he will use it against you! hahahaha
Photo Agency: SILK PHOTOS
Assistant: Sunny Pariani / SILK PHOTOS
Venue: Panaji, Goa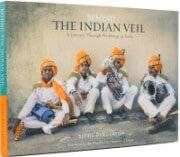 Behind The Indian Veil is the result of Sephi Bergerson's seven year photographic journey through wedding in India. This lavishly produced hard-cover coffee table book brings the beauty of India's wedding traditions, its people and its amazing stories into stunning focus.
Sephi Bergerson is an international destination wedding photographer represented worldwide by SILK PHOTOS. Sephi is based in India and has extensive experience of covering weddings all over the subcontinent. He is available for wedding photography in Delhi, Indian Wedding photography in Goa, Rajasthan and worldwide.