My first wedding in Delhi after almost four years was quite a riot. Delhi weddings are usually in the winter, and the city is just too cold for me in January. Call me spoiled, but Delhi winter is too brutal for me so I practically avoided weddings in Delhi for a while. After so many years, it was really called for a special occasion, and Suyash and Rachita's celebration was surely the right one for a come back.

The party started with a fantastic masquerade, and followed the next day by the pre wedding ceremonies, all at the amazing Oberoi Gurgaon. The three-hour wedding procession, full with two DJs, flower cannons, and firework, tool us to the exceptional venue situated at Ambience Island, Gurgaon – The Ritz . The décor set-up, influenced by French renaissance era and gothic architecture, is a neutral white and grey tone, with stunning tall gothic pillars and ceiling artistry set a unique tone to the wedding. This unmatched location turned out to be perfect for such a large gathering of happy people.
Late at night, seated in her royal palanquin, the bride bid a teary farewell to her family. Laughter and tears mixed as the happy couple left. Truly a wedding to remember.
Photo Agency: SILK PHOTOS
Lead Photographer: Sephi Bergerson (Silk)
2nd Photographer: Sunny Pariani (Silk), Ravee Pandrekar
Cinematography: Yakir Benveniste (Silk)
Venue: The Oberoi Gurgaon, The Trident Gurgaon, Ambience Island, Gurgaon – The Ritz
Decor: FNP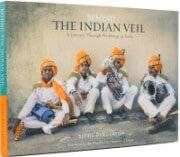 Behind The Indian Veil is the result of Sephi Bergerson's seven year photographic journey through wedding in India. This lavishly produced hard-cover coffee table book brings the beauty of India's wedding traditions, its people and its amazing stories into stunning focus.
Sephi Bergerson is an international destination wedding photographer represented worldwide by SILK PHOTOS. Sephi is based in India and has extensive experience of covering weddings all over the subcontinent. He is available for wedding photography in Delhi, Indian Wedding photography in Goa, Rajasthan and worldwide.