I met Dina and Carl a few months ago when they came to visit and finalise the arrangements for their Goa beach wedding at the Taj Exotica resort in south Goa. I love these weddings in Goa, and the 'susegad' state of mind that is so associated with this state; a relaxed, laid-back attitude towards life that is said to have existed historically in Goa. In recent years it has been suggested that the relaxed Goan culture of susegad has given way in the face of modern stress, but it is a bit difficult to see when you have the open view of the ocean in front of you. Dina and Carl came from London for this exact reason, and had not one, but two beach weddings in one day. A Hindu wedding in the morning, and a proper white Goa beach wedding in the afternoon.
Shooting a wedding in Goa, as I am based here, is somewhat like a neighbourhood wedding for me. It's a good thing, and a bad thing. I am used to this place, and so it becomes more and more difficult to see it in a new way. We were to go out for a fun couple shoot the day before the wedding, and instead of just stepping out of the resort, we decided to head south to Cabo Da Rama via the back roads. I'm glad we did as we came out with some great images that are a huge contrast to the pretty and organised resort.
South Goa beach wedding
Photo Agency: SILK PHOTOS
Photography: Sephi Bergerson (Silk)
2nd Photographer: Sunny Pariani (Silk)
Event Organiser / Planning & Decor: Crosscraft
Make-Up & Hair: Jawed Habib
Venue: Taj Exotica hotel, Goa
SILK PHOTOS is a boutique photo agency, based in India representing a select group of talented wedding photographers, both stills and motion, specialising in Indian weddings and destination wedding photography in India, and around the globe. SILK members can work alone or in a team to cover larger events that require more than one photographer.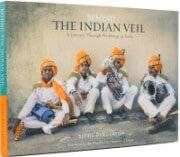 Behind The Indian Veil is the result of Sephi Bergerson's seven-year photographic journey through wedding in India. This lavishly produced hard-cover coffee table book brings the beauty of India's wedding traditions, its people and its amazing stories into stunning focus.
Sephi Bergerson is an international destination wedding photographer represented worldwide by SILK PHOTOS. He is based in India with extensive experience of covering weddings all over the subcontinent. He is available for a Goa beach wedding, wedding photography in Maldives, Mauritius, Seychelles, as well as weddings in Mombasa and elsewhere in Africa.