I have already covered a Kerala backwater wedding before. It is definitely one of my favourite locations for a destination wedding so I was not so sad (!) when Nandini and Michael got in touch with me earlier last year to cover their upcoming wedding at Kumarakom Lake Resort.  I love the food in Kerala, the palm trees and the backwater are simply the best backdrop a photographer could ask for, but more than this I loved this Kerala Malyali wedding. Loved it!
I have traveled all over India and have arguably covered a larger variety of Indian wedding traditions than any other person on earth. Destination weddings in Kerala, Hindu weddings, Muslim weddings and also Syrian Christian weddings, but believe it or not, this was my first Malyali wedding. If you have not attended a Malyali wedding you should knwoit is VERY short and does not involve any priests.It basically goes like this: Father of the bride:"You'll take care of my daughter?" Bride's groom: "Yes! And here, take two saris" Father: "Great!". Wedding is over. 5min. How awesome is that? It was so fast I hardly had time to take pictures.
I love Indian weddings. I really do. India has some amazing wedding traditions that will blow your minds away but many of them can last quite a long time. My first ever wedding in India was a TamBram (Tamil Brahmin) that lasted four hours!! I had no idea what was the most important part and so kept on shooting thousands of images. It took some time but I finally know when to take the pictures. No disrespect to these traditions, and I know I am risking it by being controversial, but do you think that 2hr long (or more) weddings at 2am on 'auspicious' dates with plenty of "swaha" result in longer lasting marriages than those starting with a simple 5min Malyali wedding with no priests? hmm . . .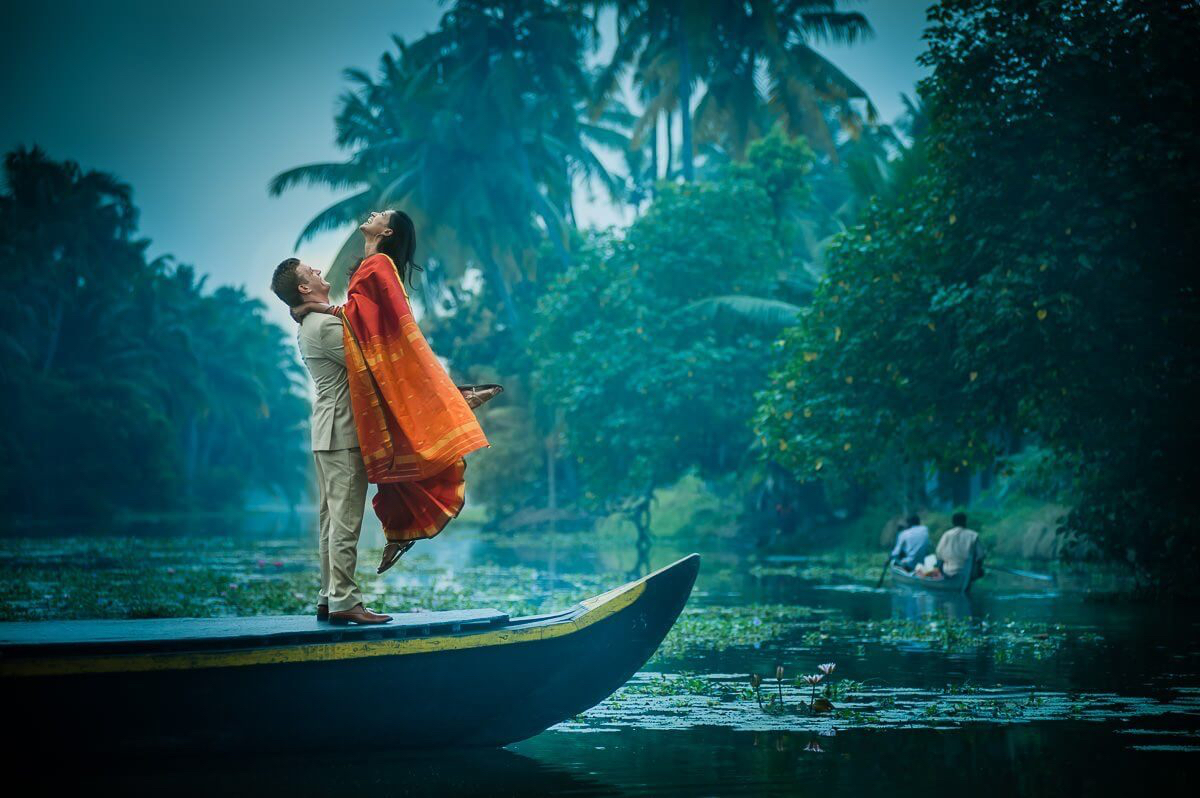 Kerala Backwater Wedding
But forget all this potentially volatile idea. Feel free to comment on this below, but the real story was this amazingly fun and cool couple. I wanted to hug them the minute we met. Nandini has this amazing smile practically all the time and Michael plays along just fine. We had an absolutely amazing morning shoot in the surrounding waterways and canals and then I had this crazy idea to organise a mud-wrestling photo shoot for them. I already spoke with the right person to get the truck with the mud and all. Michael was game and I think Nandini was also going to go for it eventually but she thought I was kidding. I wasn't! There is a lot of good to say about everything there, from the stunning resort to the food and the people but the star was definitely Devi, Nandini's mother, who in such a loveable way was completely stressed the whole time. We pulled so many practical jokes on her and she was such a sport. What an absolutely cool mom! She is after my life for the pictures now so I hope this post will make some peace.
Nandini and Michael, your wedding was absolutely great fun! Devi and Kuma, the pictures are on their way. Love, Sephi.