The very first wedding I ever photographed in India was a TamBrahm, or in its full name; a Tamil Brahmin wedding. This was back at the end of 2007 when I started working on my book on Indian weddings. I had no idea what I was going to see. I had no clue the wedding would take four hours and include so many items going into the fire. I ended up shooting the entire thing. Every little svaha and every small offering could have been THE most important thing and I could not afford to miss it.
Sidarth and Laura's wedding in Mahabalipuram was not the second TamBrahm wedding I have covered. There were a few since 2007, but this one was special. In the time when weddings become more of a production and less about people, this wedding was simple, traditional and real.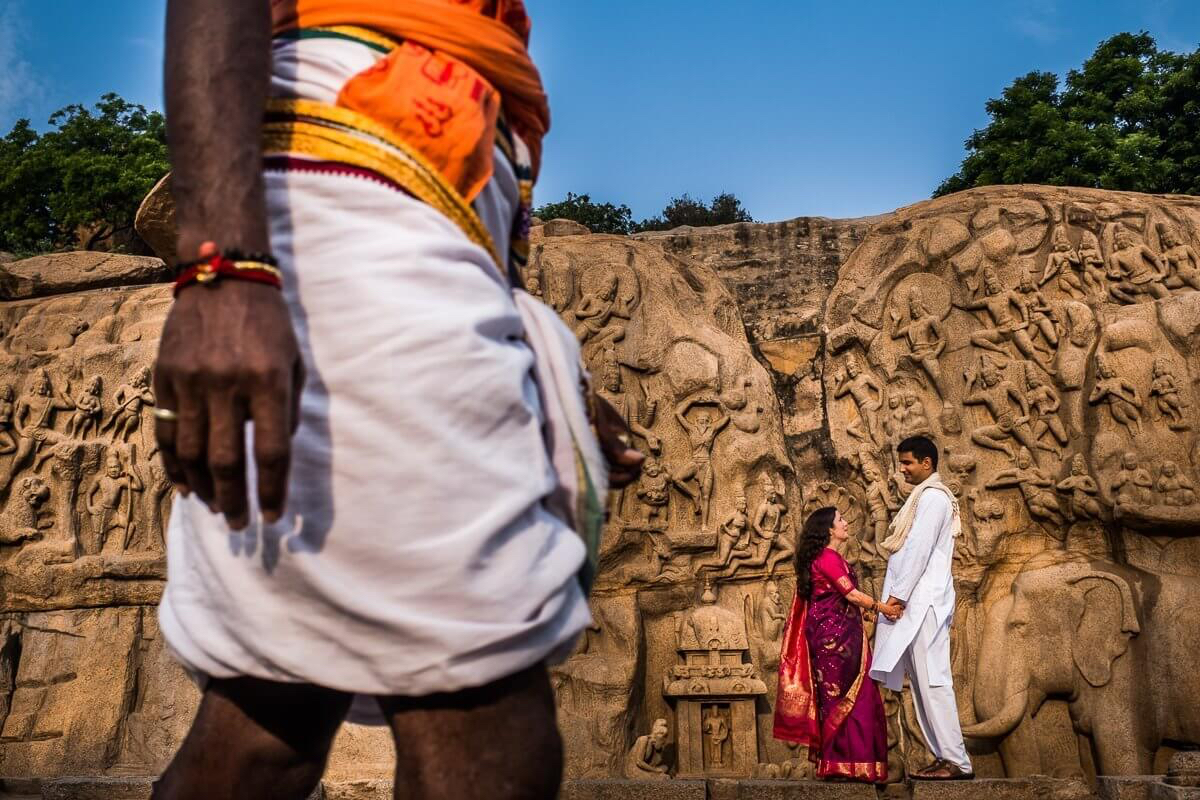 We all gathered at the Raddisson Blue Temple Bay in Mahabalipuram (now called Mamallapuram). I came a day early so had some time to go scouting the little town for locations for the couple shoot. Mamallapuram, dating back to the Tamil Pallava dynasty in the 7th-9th century, is really a tourist town. Sitting on the eastern coast of India just south of Chennai it has many attractions and although I usually try to stay away from temples and archeological structures in my photos, I felt it would be a must this time. The families came all the way from the US and a little bit of the location would be fantastic in the pictures. I did a little online search and knew I was going to shoot at the Krishna's Butterball and Arjuna's Penance bas-relief which, carved straight out of granite, are among the oldest existing examples of Dravidian (South Indian) architecture.
The first day events were held at the hotel but the wedding was to take place at the 8th century Thiruvidandai temple. This temple is widely believed to bestow good luck to those wishing to get married, and help remove obstacles that prevent marriages. What I absolutely loved about this wedding was that it was one that I rarely get to see anymore. No extra decor was applied. Even the plastic chairs at the temple where not dressed up since "this is the real India" as Sidarth's mother told me. We had idli vada on banana leaves for breakfast. Fantastic. It was only one of the pundits holding his white Pablet throughout the wedding and making a video of the entire ceremony who reminded me that we are at the 21st century.
The TamBrahm Indian Wedding
Laura and Sidarth met in Washington about four years ago when they were both at law school. Scdarth kept asking her out to watch some hockey but Laura was always too busy. One day she finally agreed. "It wasn't a 'date'" she says, "but it was when we started hanging out a lot."
No one was really concerned when the groom, for the first time in his life, put on the 8 yards Dhoti and declared he decides not to get married and go over to the Holi City of Kasi (Varanasi), and be an ascetic. I think he was easily convinced to come back and marry Laura. I personally find this tradition called Kasi Yathrai (Pilgrimage to Varanasi/Kasi) to be one of the most beautiful aspects of the Tamil Brahmin wedding.
After the wedding was over we all headed into Chennai for a proper Tamil brahmin vegetarian lunch. Definitely one of the best food one can get in India. I could not stop thinking of the amazing gift Laura and Sidarth gave to all the guests who came from the US. Not a lavish show or production but a true glimpse into India and its culture. A wedding that very few outside visitors get to see. A beautiful and authentic side of India.
Guys, it was amazing.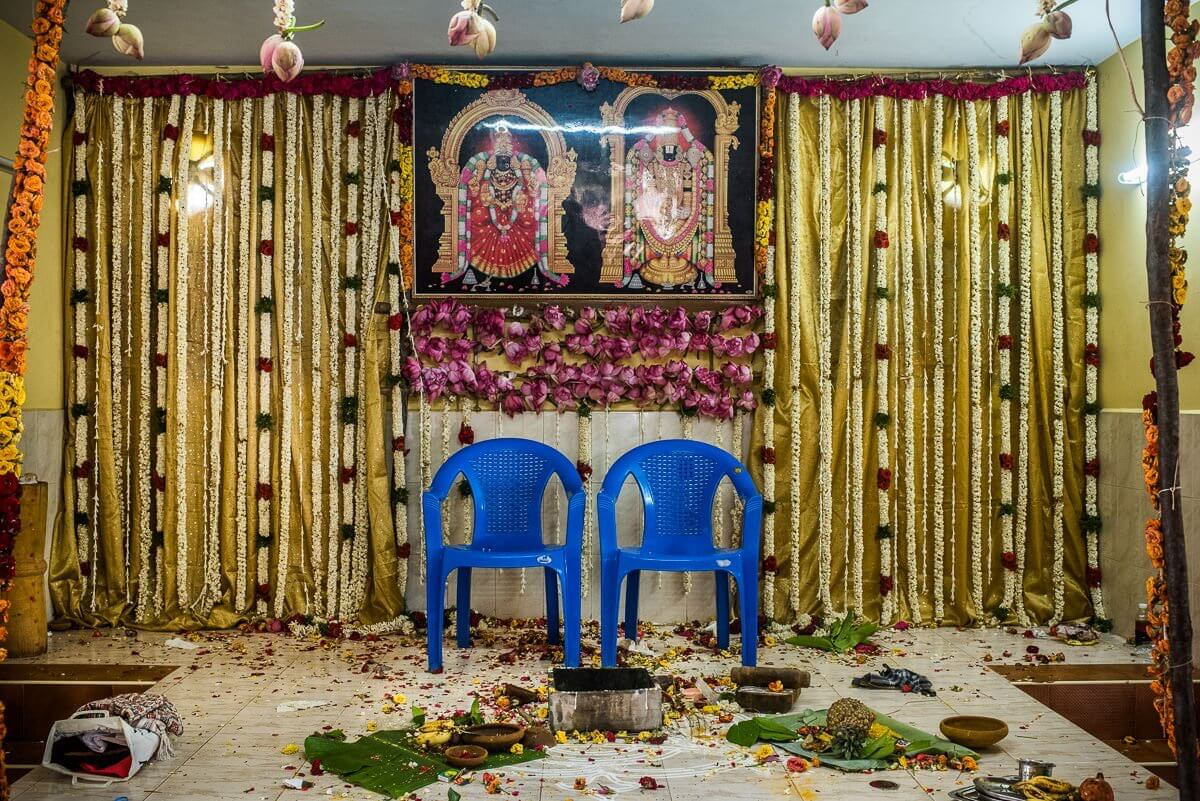 Sephi Bergerson is an international wedding photographer based in India and available for Indian Wedding photography assignments in India and worldwide.