Amira and Robin's wedding in Mumbai was celebrated at Taj Lands End in Bandra and was one of the happiest weddings I can remember. Not that weddings are not usually a happy event, but some are just more emotional than others. Maybe because it is so close to home, and maybe because these tow families are just too much fun, but the number of young, happy and ready-to-party friends and family that showed up made the whole experience so exciting and beautiful.
A wedding at a hotel in Mumbai can be a bit on the standard side but not this one. From the terrific entertainment, flamenco dancers, Japanese drummers, flute players and comedians, to the crazy and wonderful punjabi baraat band that made everyone (and I mean everyone) dance, it was all just planned to the last detail. Robin had designed the mandap himself and the afternoon light and timely sunset had made it all look amazing.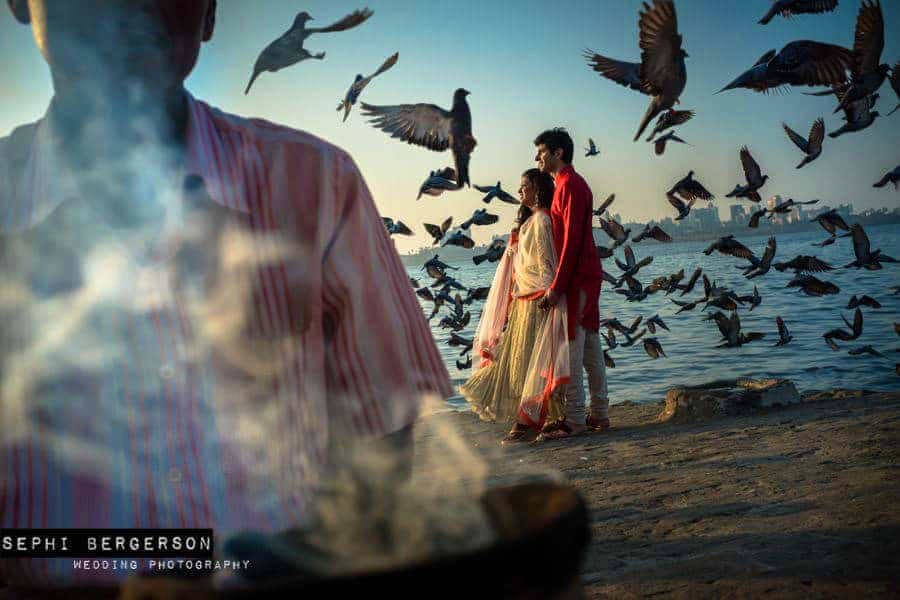 Wedding photography in Mumbai ~ Getting the city into the story
When photographing a wedding in Mumbai I really wanted to get the feel of the city which was the only thing I was still missing at this point. We've decided to head down to Dadar and Mahim for some fun pictures the next day after the wedding. There was no particular place I was looking for and with no definite schedule on our minds so we just went wandering about. Mahim is probably not the first place you'd think to go for a fun couple shoot but we did eventually manage to come out with an award winning picture, and some more funky stuff. What can I say, some weddings are just like that.
Sephi Bergerson is an international wedding photographer based in India with extensive experience of covering weddings all over the subcontinent. He is available for Indian Wedding photography in Mumbai, Delhi, Rajasthan and worldwide.