Some weddings are simply an ongoing party that never stops. This was the case with Meghna and Gaurav's recent wedding in Pattaya. A non-stop party at the really cool Amari Ocean resort. There were a lot of firsts at this wedding for me. The first time in Pattaya, the first time with my new Fuji XT2 camera, and also the wedding where I realised how SILK INSPIRE 2016 festival had an effect on my own work, in terms of the frames that I see, and how I shoot. All in all, a super fantastic experience, seasoned with Singha beer, foot massages, Thai food and great music. What can I say, I love this job.

A Destination Wedding In Pattaya, Thailand
"Are you a daring couple?" I asked Meghna when she was getting ready for the welcome party of their wedding in Pattaya. "In what sense?" she asked. I suggested to go to the red-light district for a couple shoot, and she loved it. "Lets do it tonight!" she replied, and so we did. This had set the tone for the entire wedding, and surely one of the most fun weddings I have ever attended.
Photo Agency: SILK PHOTOS
Lead Photographer: Sephi Bergerson (Silk)
2nd Photographers: Nikhil Shastri, Raj Rj
Cinematography: Doodle Studio (Silk)
Venue: Amari Ocean Resort, and Dusit Thani Resort, Pattaya
Planning & Decor: Neha Mehrotra (Foreign Wedding Planners)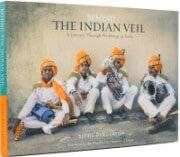 Behind The Indian Veil is the result of Sephi Bergerson's seven year photographic journey through wedding in India. This lavishly produced hard-cover coffee table book brings the beauty of India's wedding traditions, its people and its amazing stories into stunning focus.
Sephi Bergerson is an international destination wedding photographer represented worldwide by SILK PHOTOS. Sephi is based in India and has extensive experience of covering weddings all over the subcontinent. He is available to cover your wedding in Pattaya, Indian Wedding photography in Goa, Rajasthan and worldwide.