It has been a dream of mine for a long time, to shoot a complete Indian wedding only on the iPhone. The problem till now was not only the technological limitations of the previous iPhone models, which could be a separate discussion all together, as some of those still remain, but also, and mostly, finding the couple that will agree and allow me to shoot their wedding like this. This is the reason why I first wish to give a huge credit to Ayushi and Abhishek for the trust and support. Certainly not something I can take for granted!
The wedding was possibly the biggest I have ever photographed. The events took place in Udaipur over three incredible days at the end of November 2015 in Udaipur. I have covered many weddings in Udaipur before, but have never seen the place so beautifully decorated. It was such a pleasure taking pictures when everything, and everyone, looking so gorgeous.
Photography Will Never Be The Same Again
You might not realize it yet, but this is as big, or even bigger than the invention of the digital camera. In the pocket of your shirt or in the zipper of your bag lurks no less than the most inspiring and innovative imaging system in the history of photography. Under the innocent cover of your iPhone lies a powerful tool that is changing the way we work and think as photographers. For the first time we have a camera, a darkroom and and an online research directory in one small device. We can now shoot and process our images in the field, free from the burden of running home to our computers. We can instantly examine what works (and what doesn't) to make our captures match our vision, as well as share them with our subject on the spot, or upload to the social media channels or your favourite online portfolio.
It is funny to read the above paragraph now, as it was actually written on my blog back in 2011, in a post carrying the same name. So little, yet so much has changed.
I love using the iPhone but, despite all it's advantages, I don't think it will take over and replace the 'regular' cameras. What the iPhone represents is a completely new breed of camera.
Shooting an Indian Wedding on the iPhone
Shooting a whole wedding on the iPhone, as much fun as it sounds, was actually quite a challenge. I was not trying to document everything but rather focus on images that would later translate to the artistic vision that I had for the post processing. Daytime pictures where fantastic, but the night still remained a bit tricky. The new iPhone 6s Plus camera is superb in terms of resolution and colour rendition, but low light photography was difficult, on the dance floor for example, as the ISO limit was not letting me shoot without having motion blur.I had a hand-held LED light to help me get proper exposure. This was not an issue when taking still images of decor at night. These pictures actually came out better than the ones shot on the DSLR. The built-in HDR in the new iPhone is nothing less than incredible.
Post Processing on the iPhone
I have a very simple workflow for post processing on the iPhone. It would usually start with #snapseed where I correct the contrast, colour and highlights. I sometimes also add a vintage filter before moving to #mextures to add the scratches and grit. The next stage, if required, would be face retouching on #facetune. When I export to #instagram I sometimes add another filter there as well.
We were a large team, without whom this whole exercise would have been very different.
Photo Agency: SILK PHOTOS
Lead Photographer: Sephi Bergerson (Silk)
2nd lead Photographer: Christophe Viseux (Silk)
3rd Photographer: Sunny Pariani (Silk)
Assistant Photographers: Raveesh Pandrekar, Glax Graces, Puneet Desai, Prateek Sharma
Cinematography: Reel-Vision / Mike Cottrill (Silk)
Event Organiser: Hem Kashyap
Entertainment & Artist Coordination: Sumedha Garg Jindal / S.G. Arts & Entertainment (DEL)
Decor: Diya Walia
Makeup Artist: Jyoti Kumar
Hair Styling: Ahmed and Nasir
SILK PHOTOS is a boutique photo agency, based in India representing a select group of talented wedding photographers, both stills and motion, specialising in Indian weddings and destination wedding photography in India, and around the globe. SILK members can work alone or in a team to cover larger events that require more than one photographer.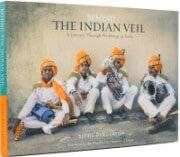 Behind The Indian Veil is the result of Sephi Bergerson's seven year photographic journey through wedding in India. This lavishly produced hard-cover coffee table book brings the beauty of India's wedding traditions, its people and its amazing stories into stunning focus.
Sephi Bergerson is an international destination wedding photographer represented worldwide by SILK PHOTOS. He is based in India with extensive experience of covering weddings all over the subcontinent. He is available for wedding photography in Maldives, Mauritius, Seychelles, as well as weddings in Mombasa and elsewhere in Africa.