Udaipur is quite possibly the most romantic city in India. I come to the 'Venice of Rajasthan' a few times a year and it always manages to surprise me and look different than it did before. Different but always stunning. There is something about this city on the lake that is just so perfect as a destination for lovers and the perfect wedding destination. Allie and Floris chose it for their special day and for a good reason.
We first me on the beach in Goa. They came down for a small vacation while planning the wedding and we had a chance to catch up over a beer. I love having meetings on the beach. It just makes it so relaxed and chilled out. We started the party right there and it only continued in Udaipur.
The plan was a full fledged palace wedding in Rajasthan and the bride's father, the wedding's CEO as everyone came to know, made sure everything was up to the mark. From the Mehendi at the Guava orchard at the Leela Palace to the wedding on the lake at Jagmandir and the reception at Udaipur City Palace it was just right. It could have easily been 'over the top' but it somehow felt so homely in all the grandeur and splendour of this wonderful set up.
Having a palace wedding in India comes with a certain level of understanding that there will be an awe effect, and this one was no different of course. The elephant procession, the bride with her bridesmaids on the luxury boat, the meticulous decor at all the locations and the stunning outfits everyone were wearing, probably for the very first time in their lives. The accumulating effect of this entire pack of surprises and the good reason to party made this wedding such a wonderful celebration.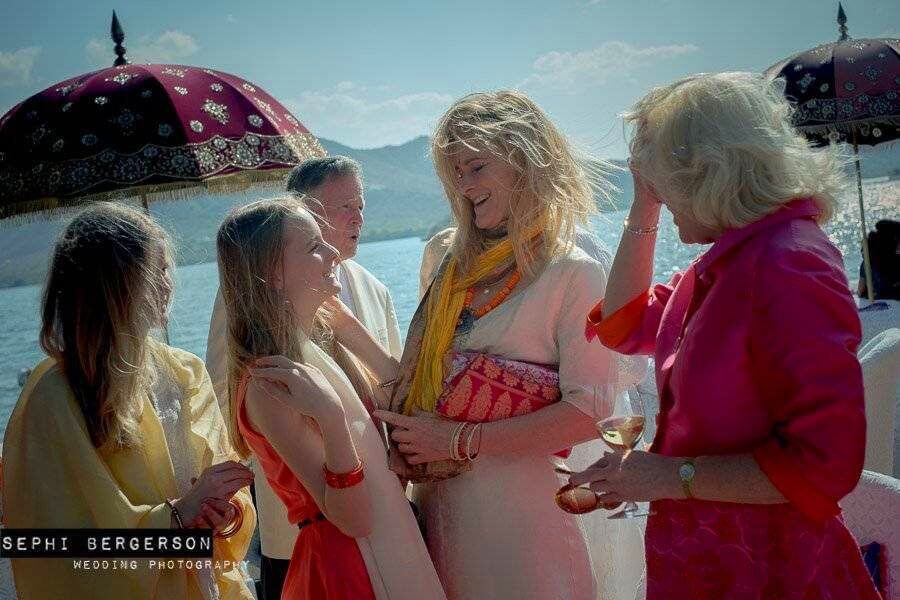 Sephi Bergerson is a wedding photojournalist based in India since 2002 and is available for Indian wedding photography in India and worldwide.